CUSTOM HAND PAINTED HAWAIIAN SHIRTS




CUSTOM SILK HAWAIIAN SHIRTS



HISTORY OF THE ICONIC HAWAIIAN SHIRT
The Hawaiian shirt has become a staple in the wardrobe of many men and women. It is no longer just surfboards and "woodies". The colors and patterns of the modern day Hawaiian shirt run the gamut from the loud and bold, to the sublimely subtle, and literally everything in-between. The Hawaiian shirt started to gain popularity in the 1930's. This fashion icon gained traction with President Truman and the screen classic, "From Here to Eternity" with actor Montgomery Clift. Tom Selleck popularized the Hawaiian shirt in his 1970's hit TV series, "Magnum". The term Hawaiian shirt and Aloha shirt are used interchangeably . Some folks call the traditional Hawaiian shirt a camp shirt. This is a reference to the short sleeve shirts used in the Hawaiian sugar cane fields. Whatever you call it. Hawaiian shirt, Aloha shirt, or camp shirt. Men want one of these custom hand painted silk shirts in their closet. Try replacing the traditional sport coat with an Hawaiian shirt. It is an exciting change.
HOW VALARIE MAKES YOUR CUSTOM HAWAIIAN SHIRT
Valarie loves to create custom hand painted silk Hawaiian shirts. If you are looking for a custom Hawaiian shirt, you have discovered the perfect website, Konasilk.com. She hand craft her silk Hawaiian shirts one at a time. No two are alike.
She starts with a large piece of white silk. She then paints your picture on the white silk. It is then time to put down the patterns, cutout the pieces, and them sew them together into your custom Aloha shirt. Valarie's hand painted silk Hawaiian shirts are wearable art. You are actually wearing a one of a kind silk painting.
Hawaiian shirts are made and worn a bit differently from the typical mens shirt. They are loose fitting. Often, men are comfortable wearing a size down from their normal size. Valarie wants your custom Hawaiian shirt to fit perfectly. Email her to discuss which size is just right for you.
Custom Hawaiian shirt orders are her specialty. Email her at
valarie@konasilk.com
and get started on your custom silk shirt.
She often paints for weddings. For this island wedding the men wore custom Hawaiian shirts by Valarie, while the women wore hand painted silk shawls. See the picture below.
Val's Aloha shirts are 100% silk. It is a natural fibre. It breathes. Pure, comfortable silk. Silk is warm in winter, and cool in summer. There is nothing like it.
CUSTOM ORDERS
Most of Valarie's hand painted silk Hawaiian shirts are custom work. However, she may have some Hawaiian shirts in stock. Email or call her to see her Hawaiian shirt inventory. She may be able to send an Aloha shirt to you immediately. If not, she will paint a custom Hawaiian shirt for you. Your colors. Your ideas. You design it. Valarie will paint it for you. "If you can dream it, I can paint it".
PAYMENT OPTIONS
Konasilk.com
accepts Visa, MasterCard, American Express, cash, money order or check.
CONTACT
Telephone: 808-854-4597
Email: valarie@konasilk.com
RETURN POLICY
There are no refunds. Valarie offers exchanges or store credit. Return item within 7 days, unused, and with tags on. Check your item upon delivery, and call Valarie.
Telephone: 808-854-4597
Email:
valarie@konasilk.com
There are no credits or exchanges on custom orders.
FREE SHIPPING
Shipping is free in the United States.
She often paints for weddings. For this island wedding, Valarie designed Hawaiian shirts for the men, and shawls for the women.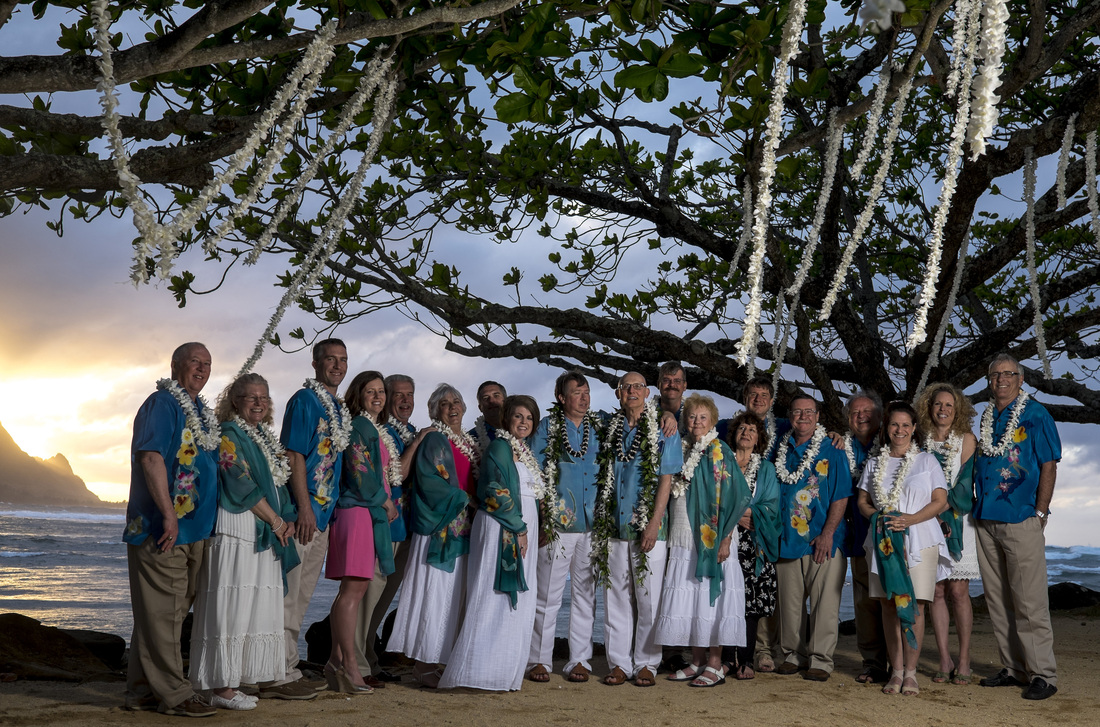 Below is a slideshow of Hawaiian shirts. Click any thumbnail for a larger picture.
​Click in the upper left corner of a picture for a slideshow. Click in the upper right corner of a picture to manually control.